Information
"
Indeed. According to Rafiki's map in the lair, the Back Lands waterfall is the first landmark after Pride Rock.
"
The waterfall is a location in the Back Lands. It is marked by a Moja Kwa Moja Stone as one of the landmarks on the path to the Tree of Life.
Information
The Waterfall is large. The area surrounding it is mostly comprised of grass, trees, and rocks.
History
Waterfall can be seen on Rafiki's map in the Lair of the Lion Guard.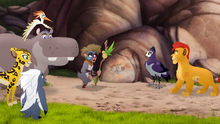 The Lion Guard arrives at the waterfall, where they find a
Moja Kwa Moja Stone
. Anga uses her vision to spot the next landmark, an
Iroko Tree
, and the Guard heads off. However, a dust storm called a harmattan forces them to retreat back to the waterfall, where they take shelter in a nearby cave.
Visitors
Community content is available under
CC-BY-SA
unless otherwise noted.