Spider-Man: No Way Home Trailer Dropped - The Loop
Play Sound
"
They're the rarest, most delicious grubs in the Pride Lands! But they only come out one day at the peak of the rainy season! So you gotta find 'em fast!
"
Utamu are a type of rare grub that appear in The Lion Guard universe. They live in the Pride Lands.
Appearance
Utamu are violet in color, with paler violet stripes and lavender undersides. Their eyes are vibrant pink. They have fourteen legs.
Information
According to Bunga, these bugs can only be found at the peak at the rainy season, making them the rarest grubs in the Pride Lands.
History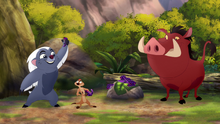 Bunga begins to search for utamu grubs after explaining them to the rest of the Lion Guard. He reveals that when he was very young, he found utamu grubs for his uncles Timon and Pumbaa, and that he had continued to find them every year since. This time (however) he fails to find the grubs in their tree, to his great disappointment. Upon admitting this to Timon and Pumbaa however, they reveal that they had found utamu grubs in a hollow log that had 'seemingly' fallen from the sky. The family then happily eats the grubs.
Since Bunga return home from The Tree of Life. They celebrate
with Timon and Pumbaa to eat Utamu together since Pumbaa has accidental he put Timon at his mouth and Bunga put him out and they make him laugh.
Trivia
Utamu means 'sweetness' in Swahili.
They love living in rotting tree branches.
They only come out in the rainy season.