Wiki Targeted (Entertainment)
Play Sound
Information
"
Last I heard, she was living along the rocky bank of Urembo River, about a half-a-day's walk from here.
"
Urembo River is a valley located in the Pride Lands. It was first seen in the episode The Wisdom of Kongwe.
Appearance
Urembo River is a seemingly large river, with a very rocky bank. Some acacia trees loom over the side, and the nearby area is strewn with fountain grass.
History
Wishing to seek the advice of Kongwe regarding Scar's return, Fuli and Makini are tasked with finding her and bringing her back to King Simba. After Beshte tells them how Kongwe lives on the rocky bank of Urembo River, the two set off.
At first, neither is sure how to find her, since they have no idea what she looks like or even what animal she is. When Fuli stands atop a strange rock, she soon discovers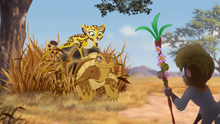 that the rock is in fact Kongwe the
tortoise
. After explaining the reason for their appearance, Kongwe slowly starts to follow them.
Ono
suggests getting 
Hadithi
 to help fight the vultures. Beshte says that he last heard that Hadithi was hanging out at Urembo River. Ono and 
Anga
locate Hadithi talking to his fans about his 
adventure
 that he had with Ono.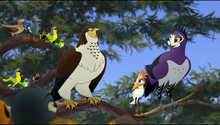 Ono introduces Anga who starts singing the song "
Hadithi the Hero
." Ono says that the Pride Lands and the Lion Guard needs Hadithi's help.  The birds fly up to meet with the Guard.
During the contest between Vitani's Lion Guard, Bunga comes up with a challenge for the bravest. He and Shabaha will run through Maumivu Thorn Patch, cross Urembo River with Makuu's Float, and then climb up Mekundu Cliffs.
Inhabitants
Visitors
Community content is available under
CC-BY-SA
unless otherwise noted.