Wiki Targeted (Entertainment)
Play Sound
Information
"
We will, Kiara. Look. Here we are! Urembo Meadows!
"
Urembo Meadows is a location in the Pride Lands.
Appearance
Urembo Meadows is a large expanse of meadow filled with sweet-smelling yellow flowers and lush green trees. A few trails weave through it, and rocks of various size are scattered about. After floodwaters sweep through the area, a section of higher ground is all that remains, with pieces breaking off frequently.
History
After
Simba
and
Nala
task their daughter, Kiara with presiding over the
The Royal Buffalo Wallow
, Tiifu and Zuri take her to Urembo Meadows to get her freshened up for the event.
While there, the three cubs become trapped in a rainstorm and decide to take shelter under a tree. After the storm blows over, Tiifu and Zuri begin to roll around in the flowers, commenting that they smell even better after the rains.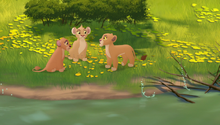 Eventually, floodwaters surge onto the meadows, trapping the cubs on an island in the midst of the plains. Whilst scouting the Pride Lands for Kion,
Ono
catches sight of their predicament and leads the rest of the
Lion Guard
to the edge of the floodwaters. To help his sister,  
Kion
 attempts to create a tree bridge, while Kiara tries to make a path of stepping stones, but both plans fail.
Kion suddenly gets the idea to combine his and Kiara's plans. While Beshte and Bunga heave a large boulder into the floodwaters, Kiara and her friends knock a dead tree across the river and cross to safety.
Visitors
Community content is available under
CC-BY-SA
unless otherwise noted.