Information
"
Shouldn't we be doing more important things than fetching leaves from the tallest tree? For some eagle we've never heard of?
"
The Tallest Tree is a minor location in the  Pride Lands. 
Appearance
As the name suggests, it is by far the tallest tree in the Pride Lands, with many branches reaching up and spreading out to display bushy green foliage. Along with this, the branches display noticeable layers.
History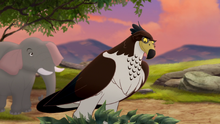 When 
Hadithi
, the legendary 
eagle
,comes back to the Pridelands 
Simba
 the king has a 
Royal Mud Print Ceremony
 for him. Hadithi suggests that he has a
Ceremonial Nest
 and 
The Lion Guard
 must go to the tallest tree and get the leaves for him to sit on. 
The Lion Guard find what they believe is the tallest, and Bunga ascends to the top. But he soon notices the real Tallest Tree in the distance, and the Guard continue their quest. During the ceremony, Hadithi is presented with a nest made from leaves from the tree.
During the Kumbuka celebration Rafiki sings Good King Simba and mentions the Tallest Tree. 
Vistors 
Community content is available under
CC-BY-SA
unless otherwise noted.