Information
The Lion Guard Pop! is a video game based on The Lion Guard.
It can be downloaded through the DisneyNOW app[1].
Gameplay
The game uses the same format as another Disney game, Dodo Pop.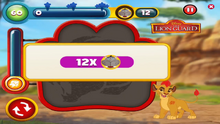 At the beginning of each level, a player is given a certain amount of bubbles to pop before the timer runs out. Players must pop the bubbles on the field, but they can only pop them when touching each other. They can pop as many as they like, provided that the bubbles touch. The bubbles have different patterns and colors to separate them from each other, and include
Kion
,
Beshte
,
Bunga
,
Ono
,
Fuli
,
Kiara
and the
Mark of the Guard
. Power ups also drop from time to time (see the next area). Some bubbles are frozen, and must be broken before they can be used.
When you pop a bubble featuring the Mark of the Guard, a gauge starts to fill on the left. When the Mark of the Guard gauge is filled completely, you can temporary pop all of the bubbles on the field.
There are 30 levels in total.
Power ups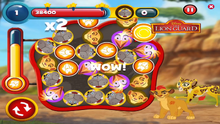 Sometimes, power ups drop down. These bubbles show a movement which represents a member of the Guard.
Beshte (Red zig-zags) - Bumps the board with his behind and pops several bubbles
Ono (Purple wing) - Swoops down and pops several bubbles from the top left
Fuli (Yellow circles) - Zooms past and pops several bubbles near the bottom
Bunga (Blue bouncing ball) - Leaps above Kion and pops several bubbles at the top right
Trivia
Kiara is the only character that has a bubble, but does not feature in the game in any other way.
Video
References