"
Oh, I know! You can bring my herd a Tamboa plant.
"
A Tamboa Plant is a rare type of plant that grows in the Back Lands.
Information
"
Ono, you said it was rare. You didn't say it was huge.
"
Tamboa plants are an incredibly rare plant with large, flowing light green leaves. A clump of pink flowers emerges from the center. They are extremely large and heavy.
It is the favorite plant of Dhahabu's Herd.
History
"
You got it. One Tamboa plant, coming up.
"
Hoping to get Dhahabu to share her watering hole with them, the Lion Guard offer to track down a Tamboa plant for her herd in exchange for access to the watering hole.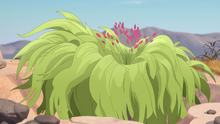 After a long search in the
Back Lands
, Ono locates a Tamboa plant surrounded by
thorn bushes
. After a treacherous journey to reach it, the plant turns out to be much bigger than the Guard had initially anticipated.
Bunga
attempts to pull the plant out, but to no avail. The Lion Guard begin to dig the tamboa plant out instead. With only
Beshte
strong enough to carry it, the
hippo
raises the plant on his back, and follows the Guard home.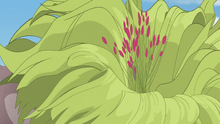 The Lion Guard return to Dhahabu's herd and present the tamboa plant to the herd, but not before startling Dhahabu herself. Despite delivering the plant to the zebra leader, she refuses to give the Lion Guard access to her watering hole, leaving the Guard to wonder why. It isn't long before Ono reports that there is no water in the watering hole. Hearing his words, the herd, feeling betrayed, leave Dhahabu and the tamboa plant behind.
Community content is available under
CC-BY-SA
unless otherwise noted.