Information
Tafu's Scurry is a group of Flying Squirrels led by Tafu.
History
Since Yuki's Troop found the new home at Hot Springs when suddenly the flying squirrels are flying around but they throught might be a large birds. they got frighten and run away. but Lion Guard has got to stop them. But Bunga caught their leader Tafu, he told them they shoudn't scared them they are just neighbourhoods.
Members
Tafu
Main Article: Tafu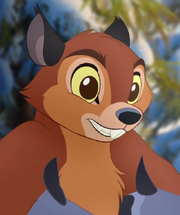 Tafu is the leader of the group. 
Unnamed Member
Community content is available under
CC-BY-SA
unless otherwise noted.