The Shelter of the Lion Guard is a location in a dry area of the Pride Lands.
It was used as a lookout point by previous Lion Guards.
Appearance
The Shelter itself is a deep, labyrinthine tunnel, with many rocks jutting out from all angles. The path to the secret within is marked by the Mark of the Guard, though fake markings are also in place to deter any possible intruders. There are two entrances, one on the wall of a ravine and the other a bit further ahead on higher ground.
History
After Rafiki tells Kion of an ancient shelter once used by the past Lion Guards, Kion takes his team to seek out the shelter for himself. When a rock breaks away underneath him, he lands directly in front of the first entrance. While his friends look for another way in, Kion starts to examine the shelter.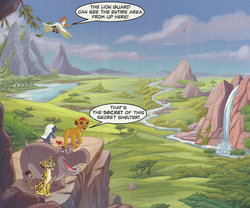 Inside, he is at first baffled as to how he can find the right path. He almost turns back, until he discovers the
Mark of the Guard
on one of the rocks. He follows the marks, taking care not to take the path of the numerous fake Mark of the Guard prints that the
Great Lions of the Past
had also put in place to confuse intruders.
The rest of the Guard locate another Mark of the Guard elsewhere, and locate the other entrance, just in time for Kion to meet up with them. Before they leave, Kion wishes to investigate where the deep tunnel leads to. When they see sunlight, they are amazed to find that the shelter leads to an amazing vantage point, overlooking the entire Pride Lands.
Community content is available under
CC-BY-SA
unless otherwise noted.