Relationships
Friends, Allies & Acquaintances
Seisou, the Lion Guard, and Makini are good friends.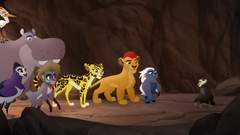 Seisou helped them when they wondered why everyone was freaking out about
tuliza
.
Seisou and Tenuk are good friends. Tenuk introduces Beshte to him.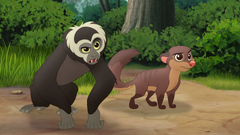 Bambun is one of Seisou's best friends. He introduces him to his new best friend Beshte. When Tenuk runs away Bambun, questions Beshte why he scared him.
Tompok is one of Seisou's best friends.
Mouse Deer and Seisou are good friends since Mouse Deer knows how to find Makini's staff.
Enemies
Seisou is scared of Mama Binturong just like everyone else in the forest. 
Seisou hates Smun since he works for Mama Binturong.
Community content is available under
CC-BY-SA
unless otherwise noted.