Information
"
I got ya covered! Literally! I know a shortcut. Through the caves under Rocky Plateau.
"
Rocky Plateau is a location in the Outlands.
Description
Rocky Plateau is a steep rock formation, with a crater inside which can be accessed from canyons below. The top is littered with large rocks of various sizes.
History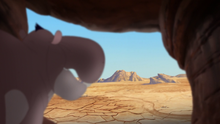 When
Beshte
is swept away into the
Outlands
, he makes his way back by taking shelter under numerous rock formations. After meeting up with
Shupavu's Group
, he explains how he can access the
Pride Lands
by passing through Rocky Plateau, but doing so will burn him.
Njano
arrives and suggests they use a shortcut that will cover the
hippo
. He follows them through a cave, unaware that the
skinks
are working with
Scar
to destroy him.
When he ends up at a dead end, Janja, Cheezi and Chungu start dropping rocks on him from Rocky Plateau. The Lion Guard arrive and stop the hyenas from squashing Beshte, with Kion using his Roar of the Elders to blast the hyenas away. With the danger over, Bunga leans against a large rock which Fuli had been holding, toppling it over completely. Much to their relief, Beshte arrives, having finally cleared a pathway up to them.
Visitors
Community content is available under
CC-BY-SA
unless otherwise noted.