Information
"
Don't you worry about little ol' us! We love it in here! Don't we, Goigoi? Goigoi?
"
Reirei's Cave is a location in the Outlands. It is the home of Reirei and her pack.
Appearance
Reirei's Cave is a large bundle of smooth rocks varying in size all pushed together in a pile. Inside, the rocks become more rigid, with one resembling a small podium pushed against a wall. A single shaft of light enters from the front.
History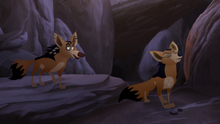 When the
aardwolves
move into a cave next door having been accidentally chased out by the
Lion Guard
, Reirei emerges from the rocky den next to them, sniffing the air as she catches their scent. She quickly reports to
Goigoi
, waking him from his slumber. Although uninterested at first, she soon gets his attention by mentioning the aardwolves. He questions when their last neighbors, some
hyraxes
, moved out until Reirei reminds him that they didn't. He remembers that they were 'delicious'. Goigoi follows his mate out to say 'hello' to their new neighbors.
Once the Lion Guard discover their plan, they chase the jackals out. Goigoi slams into his mate and the pair land back in their home, with Bunga sealing up the entrance. Reirei exclaims that they're happy to be home, but Goigoi has already fallen back asleep.
Scar orders Reirei's Pack to take over Ukuni Woods with the jackals being in the lead of the fight. However they get blocked in by The Hyena Resistance . 
Residents
Visitors
Community content is available under
CC-BY-SA
unless otherwise noted.