Relationships
Friends, Allies & Acquaintances
granadilla
. They still get along great.
Kion and Pim are good friends.
The Rise of Makuu
Bunga saves Pim from Ushari the snake. However, he is scared of Bunga because of his smell. When Ono helps Bunga smell better he doesn't run away from him. 
Fuli and Pim are good friends.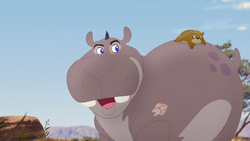 Beshte and Pim are good friends. In
The Wisdom of Kongwe
when the hyraxes needed water but they couldn't cross. Beshte became "the big B bridge" and helped them get across. In
The Zebra Mastermind
when a  
dust devil
,  came to
Ukuni Woods
Beshte and Bunga would catch the hyraxes when they fell out of their tree.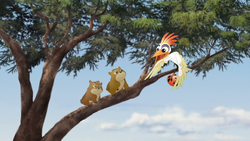 Ono and Pim are good friends. In
Ono and the Egg
Ono saves Pim from being eaten by
Mpishi
. In the Zebra Master, he helped saved their 
granadilla
.
Simba is a good relationship of Pim since Kumbuka Celebration and Rafiki singing of "Good King Simba". 
After Shujaa smashes the block of walls since Kifaru heading the Watering Hole. It makes Pim and other Hyrax upset since Shujaa destroys their home.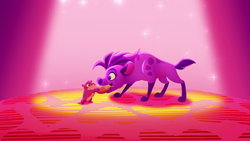 Jasiri and Pim are on good terms. During the song "
The Worst Hyena We Know
" Jasiri gives him a piece of fruit for him to eat.
Janja and Pim are on good terms. 
Azaad and Pim are on good terms. 
Anga and Pim are on good terms. 
Klipspringer and Pim are on good terms. 
Enemies
Pride Lands
looking for a good meal she spots Pim and his group. She came to eat him but the Lion Guard saved him.
When Mtoto and his friends wanna play fake Lion Guard, they make the hyraxes be hyenas. 
Bird of a Thousand Voices
 Tamma tries to take hyraxes her food.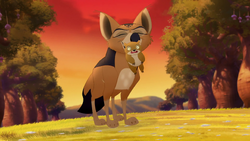 Reirei tried to eat him 
Kupatana
 but Kion tackles her. 
Kiburi and his float are banished for trying to kill Simba and some hyraxes see them and run away.
Kambuni, Kwato, Shauku and Guma and his friends are pertaining to be the Lion Guard since they chase Pim and his family as Janja and his Clan.
Community content is available under
CC-BY-SA
unless otherwise noted.