Boba Fett Returns - The Loop
Play Sound
Information
"
As you all know, it is the duty of every Royal Mjuzi to keep the history of the Pride Lands alive. Today Makini will take yet another step in that role.
"
The
Painting Ceremony
 is an event that takes place in the 
Pride Lands
.
Information
The Painting Ceremony is part of a Royal Mjuzi's training. As part of their job, they are required to paint pictures depicting the history of the Pride Lands. The event is held at Pride Rock, where the Royal Mjuzi will paint in front of many Pride Landers, having received their objective from the Great Lions of the Past.
History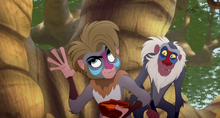 Rafiki
tries to prepare
Makini
for the ceremony, by teaching her how to get her instructions from the
Great Lions of the Past
and showing her an example. As she is about to paint, the bowl is knocked away from her hands. They discover three animals -
Chama
,
Mzaha
and
Furaha
are behind the disturbance. Makini persuades her mentor to let them stay, but he is a little tentitive due to Makini needing to practice. Makini is shocked to find she is going to be painting for the royal family.
A bit later, Makini takes a break from painting, but soon resumes when her mentor returns. She tries to paint, but is again interrupted by the same group of animals, who have returned. They are sent away by Rafiki, and Makini continues.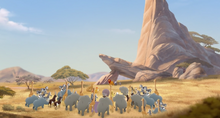 After King Simba makes the announcement at Pride Rock, Makini listens hard to the Great Lions of the Past, and paints a picture of Simba, Nala, Kion and Kiara. The Pride Landers surrounding her are in awe of her work, and Rafiki proudly exclaims that she did it.