Wiki Targeted (Entertainment)
Play Sound
Information
Pãgala's Mob is a group of mongooses led by Pãgala and Krud'dha.
History
When Pãgala and his mob begin to attack the Lion Guard when Beshte told Makini and take Ono. But Ono tried to figure out what kind of animal of Pãgala's Mob is. When Pãgala's Mob begins to attack again when Kion has enough he pounced at Krud'dha. When he tried to tell why they're were attack them. he tried to tell them they weren't attacking them. They want Bunga stop eating their food is Snails. They want to apologize to Mongooses. Pãgala and his mob asked them to leave at Marsh. But suddenly someone came out the hole of the caven. It's was Makini and Ono. When Ono got stuck she pulls him out and crashes into the logs it's got a lot of Snails. Bunga tried to eat snails again. When Fuli scowled him. Ono realized that the mystery animals are Mongooses.
Members
Pãgala
Main Article: Pãgala
Pãgala is the leader of the Mob. 
Krud'dha
Main Article: Krud'dha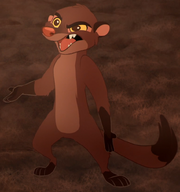 Krud'dha  is a member and co-leader of the Mob.
Unnamed Members