Information
"
Perhaps, that's because he map in the lair shows the path going over the mountains.
"
The mountain is a location. It is marked by a moja kwa moja stone as a landmark on the trail to the Tree of Life. It is home to the snow monkeys, Yuki and her family, the red pandas, Domog and his pack, the flying squirrels, Tafu and his scurry and the snow leopard, Chuluun.
History
The Mountain can be seen on Rafiki's map in the Lair of the Lion Guard.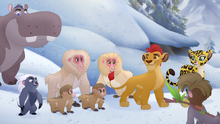 Kion accidentally uses the Roar of the Elders on the Mountain, which causes an avalanche and destroys the home of Yuki's Troop. Kion decides to find the snow monkeys a new home and goes searching around the Mountain for a new one.  
Domog's Pack
thinks that
Bunga
is the Chosen One, and he must defeat the
Ghost of the Mountain
, who lives at said mountain. Th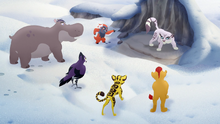 e ghost is a
snow leopard
named Chuluun, who causes mayhem as she chases the
red pandas
around the
Bamboo Forest
. However, she is eventually cornered at the Mountain by the Lion Guard and Domog's Pack. She falls after
Bunga
sprays her with his stink, and meets
Makucha
in the process.
The Mountain can be seen when the Lion Guard is walking through the Marsh.
The Mountain can be seen during the song As You Move On.
List of Species
Locations
Residents
Former Residents
Visitors
Community content is available under
CC-BY-SA
unless otherwise noted.