Hawkeye Is Here To Amaze - The Loop
Play Sound
Moths are insects that appear in The Lion Guard universe. They live in the Outlands.
Appearance
Speckled emperor moths resemble and are closely related to butterflies. Their wings often have patterns of colors that can be used to attract mates or to scare off predators.
Information
Like butterflies, moths undergo metamorphosis to reach adulthood. They start out as caterpillars before becoming cocoons, hatch into winged adults. They feed on flower nectars, tree saps, fruits, and animal droppings.
History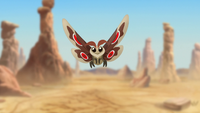 A moth appears in the song Look on the Bright Side, accompanying Beshte who got swept into the Outlands.
A moth is briefly present as the Lion Guard journey into the Outlands to save Jasiri, Wema, and Tunu.