Information
"
Badili: Oh, sure. It's in Mirihi Forest.

Ono: That's way out in the Back Lands..

"
Mirihi Forest is a woodland region in the Back Lands.
Appearance
Mirihi Forest is a vast woodland area filled with acacia trees and a vast amount of other greenery, much of it on low hills. Whilst there are some dirt paths and a few rocks, the majority of the area is surrounded by vegetation. According to Ono, it is very far into the Back Lands.
History
Mapigano bullies another leopard named Badili out of his tree, and Badili is forced to flee. He winds up in the Pride Lands, but when the Lion Guard find him, he is forced to return home with them escorting him.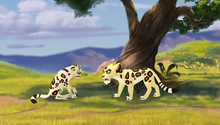 Nervously, Badili makes multiple excuses on the way back to his former home in the depths of Mirihi Forest, which causes
Kion
to become suspicious. When Badili leaves them, Kion and the Guard stay behind, spying on him from a nearby bush. They watch as Mapigano reveals himself, frightening Badili and mocking him with the intent of kicking him out once and for all. The Lion Guard intervene at this point, and drive Mapigano out by using his own tactics on him. Badili thanks the Lion Guard and joyfully runs back to his tree.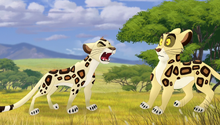 However, Mapigano soon returns and pushes Badili out again, and Badili returns to the Pride Lands. This time, the Lion Guard decide to train Badili in strength, speed, bravery and fierceness, raising his confidence in the process. Badili returns to Mirihi Forest with newfound energy, and approaches Mapigano. Whilst Mapigano soon breaks his spirit, Badili manages to recompose himself and drive out Mapigano by intimidating him. The Lion Guard congratulate Badili, who thanks them again for their assistance. The Guard then leave the leopard to his home territory, with Badili asking the Lion Guard to apologise to the galagos he caused problems for back in the Pride Lands.
Residents
Visitors
Trivia
During the episode, Badili refers to the location as Mirihi Forest. Ono, however, refers to the location as Mihiri Forest, and the subtitles also reflect this change of name.
Community content is available under
CC-BY-SA
unless otherwise noted.