Information
"
Kion: Those thorn bushes are so dried out they'll catch on fire right away.

Fuli: And all the sharp thorns? Once the fire's started, we'll never be able to put it out!

"

–Kion and Fuli, Fire from the Sky

Maumuivu Thorn Patch  is a location in the Pride Lands. It is first seen in the episode The Trail to Udugu, but didn't get it's name until the episode Fire from the Sky.
Appearance
Maumivu Thorn Patch is a grassy area filled with an abundance of dark brown thorns all over. The Dry Season reveals several large rocks also reside.
History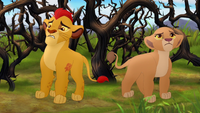 Nala
 takes 
Kion
 and 
Kiara
 on 
the trail to Udugu
. The two cubs try to get through the thorn bush. Kion goes under it and Kiara goes over. 
Ono falls onto the thron bush when he's watching Ona.
While fighting Mzingo's Parliament the Lion Guard catches the fire sticks from falling on the thorn bush in Maumivu.
However,
Hadithi
 falls into the thorn bush after saving Ono and
Anga
. Despite this setback, Ono, Anga and the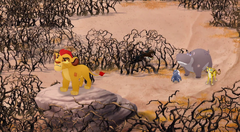 other birds of the Pride Lands finish their mission. They gather the
vultures
 in one spot while Kion uses the 
Roar of the Elders
 on them. Kion thanks the birds of the Pride Lands for their help as Hadithi sets himself free.
During the
Friends to the End (song)" a flashback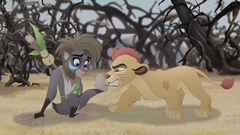 can be seen of Kion pulling a thron out of Makini's foot.
During the contest between Vitani's Lion Guard, Bunga comes up with an challenge for the bravest. He and Shabaha will run through Maumivu Thorn Patch, cross Urembo River with Makuu's Float, and then climb up Mekundu Cliffs.
Visitors
Community content is available under
CC-BY-SA
unless otherwise noted.