Spider-Man: No Way Home Trailer Dropped - The Loop
Play Sound
Information
"
Fuli: Kion, do we have to go through the marsh?

Kion: Don't worry, Fuli. I'm sure we'll be on the other side soon.

"

–Kion and Fuli, Marsh of Mystery
The marsh is a location. It is marked by a Moja Kwa Moja Stone as one of the landmarks on the path to the Tree of Life.
Appearance 
Marsh had shown to look similar of the swamp. As trees with many roots popping out of the water. Their some tall grass that is quite thick and dead logs. Their some terrain.
History
Marsh can be seen on Rafiki's map in the Lair of the Lion Guard.
Marsh can be seen on the map.
Marsh can be seen on the map.
The Lion Guard walks through marsh and Fuli questions why they need to walk  throught it. Kion ays they'll be on the other side soon. Anga says she can see the next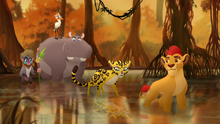 moja kwa moja stone beyond the edge of the marsh. Bunga says that this place isn't bad and the snails are great. Fuli says it's nice for Bunga since he's not in the mud. However Bunga jumps into the mud and gets Fuli covered in it. They soon hear a bunch of screaming animals and Ono  isn't sure what it is. Makini ets scared and hops on top of Beshte. Makini suggets getting Ono somewhere safe but Ono doesn't like the idea since they don't know what it is. Turns out it's a bunch of
Mongooses
 who are trying to attack the Lion Guard. Meanwhile Makini spots a blue light and tries to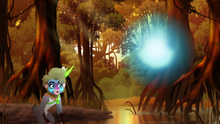 follow it.  She gets them lost and they fall through the marsh. Back a the guard the mongooses are throwing mud at the lion guard. Once the mongooses leave Kion asks Ono why they were mad. They notice that Makini and Ono are missing. Turns out that they're at a cavern below the marsh. Makini tries to climb the cavern but she slips and she suggets for Ono to fly out. Which he can't do because of his eye sight. Back at the guard Fuli tries to sniff them ou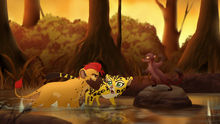 t. Bunga has a bet with Anga and says he'll spot Makini and Ono before she does. The mongooses come back but Kion says they don't have time for games. Ono tries to think but he can't since Makini is making a lot of noise. Makini falls through a hole and waters comes out. She spots a tunnel and Ono suggets going through it. Ono soon starts to hear a sound which turns out to be
Bats
. Ono says he doesn't like bats but notices that they could be their way out. When they notices no bads around Ono suggets using echolocation. Back at the guard Fuli says she's having trouble sniffing them out with Bunga's yelling. Anga finds their tracks but Bunga says it first. They follow their tracks and notice that they're not here. Ono tries to snap his beak to hear a sound but Makini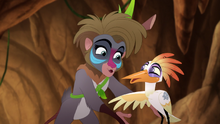 starts talking. 
When it doens't work Makini suggets having a high pitch sound. Ono says she should scream "Anything." The pair thinks that they could be a great team when Ono notices they're getting close to the surface. Kion says that Makini and Ono are close and Bunga almost falls down the marsh. He says that there's no snails down there. He finds them under a rock. The monogo oses start yelling again but Kion asks why they start attacking them. They explain that the Guard has been eating their snails. Makini and Ono soon come up and they knock over a log. The monogooses find the snails and starts eating them. That night Anga spots the next moja kwa moja stone and Bunga spots the blue light. Anga grabs him before he gets lost. Bunga spots more snails and asks Anga to let him go. Anga doesn't agree and flies off. 
During the song  "
As You Move On
" 
Janja
,
Jasiri
,  
Azaad
  and the Lion Guard walk
through the Marsh.
List of Species
Locations
Visitors