Information
Bunga: "Zuka zama! Lookit! The water's reached the trees at Mapema Rock!"
Beshte: "Poa! You're right, Bunga! That means... Uh... What does that mean?"
Bunga: "It means it's the peak of the rainy season! It's time for utamu! "
- The Search for Utamu
Mapema Rock is a large rock located in the Pride Lands.
Appearance
Mapema Rock juts out over a marshy region located at the end of a river. It is a thick, gray boulder that forms a curve over the river. The rock slightly resembles the head of an eagle.
History
The
Lion Guard
ventures out to Mapema Rock, being led by
Bunga
who is searching for the rare
utamu
grubs. When he notices that the water has reached the surrounding trees he becomes excited, and informs a curious Beshte how this turn of events means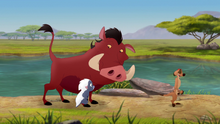 that it's the peak of the rainy season, which is the best time for finding the Utamu grubs.
Mapema Rock is also seen in the flashback sequence where Timon and Pumbaa are also searching for the Utamu grubs, shortly before meeting the young Bunga.
Visitors
Community content is available under
CC-BY-SA
unless otherwise noted.