Information
"
Hapana! Lake Kiziwa! It's too full. The water's pouring out!
"
Lake Kiziwa is a large lake in The Lion Guard universe.
Description
Lake Kiziwa is a large lake held back by a set of strong, sturdy boulders.
History
The lake floods after a storm. Bunga gets the idea of blocking it with stones, and other Pride Landers approve. When a tiny leak occurs, he fixes it by placing a stick in it, still certain it's safe. The rest of the Lion Guard isn't as certain, but they comply.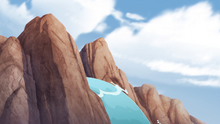 Later, the dam breaks, causing the floodwater to spread rapidly throughout the Pride Lands as the Pride Landers flee in terror. After Ono accidentally leads them into a dead end in the canyon as the Lion Guard and several other animals escape, Kion eventually uses the Roar of the Elders to stop the water from moving any further.
As a direct result of the Roar, the waters move back and eventually fall out over a cliff, creating a new watering hole.
Ma Tembo and most of her herd pass through Lake Kiziwa to pick up some water, in order to stop a fire in Ndefu Grove.
Visitors
Trivia
Ziwa can mean 'pond,' 'pool', or 'lake' in Swahili.
Community content is available under
CC-BY-SA
unless otherwise noted.