"
Now, these gourds will be an important part of your new staff. One for the future, and one for the past.
"
Gourds are a type of vegetables that appear in The Lion Guard.
Appearance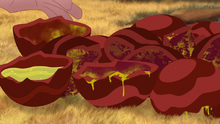 Gourds come in a variety of different colors, including brown, green, red, violet and teal. They often have darker long, vertical wavy stripes on their shells.
Information
Gourds are tied to an a bakora staff, one to represent the future and one the past. Also, the shell of the veggie is used to create bowls which can be used to store paints.
History
Rafiki is seen using a painting bowl made from a gourd.
When Makini finds her staff, Rafiki proudly attaches two gourds onto it. One is for the future, and one for the past.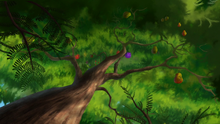 Timon, Pumbaa and Bunga decorate a Christmas tree with gourds as they prepare for Christmas.
After being stung by a scorpion, Rafiki and Makini try mixing different fruits in gourds to heal Simba. After realizing that the cure to the wound is volcanic ash, Rafiki orders the Guard and his apprentice to get some and to place it in a gourd which he ties onto Makini's staff.
Makini keeps tuliza in her gourd for Kion's scar.
During Who is Better Than Who since Bunga and Binga having eating fruits contest for bunch of gourd cores
Community content is available under
CC-BY-SA
unless otherwise noted.