Information
"
Look! Four bright stars in a shape of a diamond!
"
Four Stars is a location. It is marked by a Moja Kwa Moja Stone as one of the landmarks on the path to the Tree of Life.
History
Four Stars can be seen on Rafiki's map in the Lair of the Lion Guard.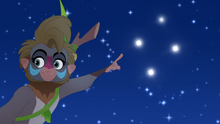 While in a
desert
, a local
jerboa
mentions a cliff in the direction of a cluster of four stars.
Four Stars can be seen on Rafiki's map when the Guard is almost at the Tree of Life.
While back at home, Kion is sitting on 
Pride Rock
, looking at stars. 
Kiara
 then comes to sit alongside her brother to see what's troubling him. She learns about Que
en 
Rani
, and instantly detects her brother's sorrow. With
Kion
confessing that he misses her, Kiara suggests that maybe he could go back someday, and how she was sure that their parents would understand.
Visitors
Community content is available under
CC-BY-SA
unless otherwise noted.