Wiki Targeted (Entertainment)
Play Sound
Information
"
"The forest just won't be the same without her."
"
The forest is a location shown in The Lion Guard. It was the home of Mama Binturong and her Porcupine minions and several other animals.
Appearance
The Forest is very large and dense. There are numerous amounts of foilage, and the treetops are very spread out and span a long distance. Occasional water sources can be found throughout the Forest, along with many hideouts for animals. Within the Forest is the Stone Forest, which Mama Binturong previously lived in her tuliza-filled hideout. The Forest also had an abundance of tuliza, though it often disappeared because of Mama Binturong's constant hunger for the flowers.
History
The forest can be seen during the song "As You Move Forward."
On their way to the
Tree of Life
, the
Lion Guard
passes through the fo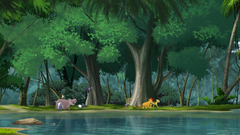 rest. However, they soon learn that all of the inhabitants are frightened of even hearing the word
tuliza
. Unbeknownst to them, a
binturong
known as
Mama Binturong
adores tuliza, and 'owns' all the tuliza in the forest.
When she gets her porcupine henchmen to steal Makini's staff that contains their tuliza, the Lion Guard manage to get information from various animals in the forest which ultimately leads them to her hideout.
Kion and the Guard runs through the forest to get to the Tree of Life. They soon meet a 
clouded leopard
 named 
Yun Mibu
. Kion gets mad at the Lion Guard for stopping and meeting new animals. He especially yells at Beshte for being too nice. Bunga thinks that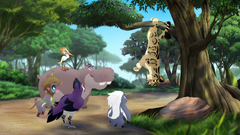 Kion is turning evil and Kion runs away in doubt. Fuli reminds Bunga that they'll always be "
Friends to the End
". Worried about Kion, Fuli asks Anga to go look for him. She spots Kion about to fall off a cliff and Anga tries to grab him. Unable to reach him, she goes to get the rest of the Guard. Bunga tries to grab Kion and still no use. They soon get Yun Mibu to help them and Kion is saved. Fuli suggests that Kion should take a rest and the Tree of Life can wait.
The Forest can be seen when the Lion Guard, Janja, Jasiri and Azaad try to get back to the Pride Lands. Kion uses the Roar to get them across a deep and wide Ravine.
List of Species
Residents
Former Residents
Location
Visitors