Information
"
Lion Guard! Meet me at Flat Ridge Rock! I can cross the river there!.
"
Flat Ridge Rock is a location that can be found at the edge of the Pride Lands. It is located on the border between the Outlands and the Pride Lands.
Appearance
As the name suggests, it is literally a large, flat rock held up by a smaller rock formation. It is surrounded by grass on one side, and the other side is a steep drop which connects the Outlands and the Pride Lands.
History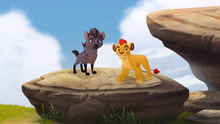 When
Kion
becomes separated from the rest of the
Lion Guard and
asks them to meet him at Flat Ridge Rock,
Bunga
tells everyone that he knows the way, but it soon becomes apparent that he does not. After speaking with
Mbeya
, the Lion Guard find the rock, where they wait for their leader to return. They briefly leave the rock to take care of
Janja
's clan but return once he is taken care of. When the Lion Guard walk on ahead, Kion says goodbye to his new friend,
Jasiri
, before following his friends.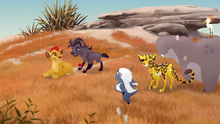 The Lion Guard is engaged in a battle against Kiburi's float and Janja's clan. Jasiri is watching the guard fight them while laughing. After the guard wins the battle, Bunga explains that he is starting to learn some of Rafiki's moves. Then, Jasiri comes out from nowhere and tackles Kion to the ground. Kion explains that Scar is back to destroy the Pride Lands. She offers to help them fight with her clan by making a  Hyena Resistance.  
Jasiri stands on the rock when offering to have her clan contribute to the last fight
against
Scar
's army.
Visitors
Community content is available under
CC-BY-SA
unless otherwise noted.