Information
"
I just remembered something! Rafiki says that really salty water can be very relaxing. But you don't drink it. You soak in it!
"
Flamingo Beach (also known as "The Great Bunga Sea") is a location in the migration path of the flamingos that appear in The Race to Tuliza for its debut.
History
Flamingo Beach can be seen during the song "As You Move Forward."
The
Lion Guard
arrive at the sea after hearing that
Anga
found it.
Bunga
jumps in first and attempts to drink it, since he is very thirsty from their journey across the
desert
. It is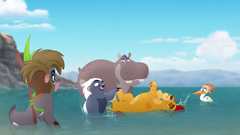 then that Bunga names it "The Great Bunga Sea". When they learn that there is too much sea salt to let them drink,
Kion
tells them to keep moving on, but
Makini
is reminded that
Rafiki
once told her that really salty water can be good, and that you don't drink it, you soak in it.
Ono
agrees with her statement and tells Kion that soaking in the water should soothe his scar. Kion tries out the water and finds himself completely relaxed in it. The Guard joins Kion and decided to relax themselves in the water, except for Fuli who goes off to find more tuliza and Anga who keeps watch.
During their relaxation, a flamboyance of flamingos on migration arrive and start a dance party, threatening to interrupt Kion's relaxation. It is revealed that every year the flamingos stop here, at Flamingo Beach, for their annual Flamingo Dance Party. When the flamingos begin to bother Kion's relaxation, everyone in the vicinity is at risk of Kion's Roar, as he is becoming enraged. When Fuli arrives with the tuliza and Kion calms down, the Guard leaves the flamingos and their migration in peace and continue on their journey.
List of Species
Visitors
Community content is available under
CC-BY-SA
unless otherwise noted.