Relationships
Friends, Allies & Acquaintances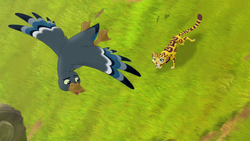 Female Duck entrusts Fuli with the safety of her flock's eggs when a herd of
oryxes
start fighting nearby, almost trampling them.
Although hesitant at first to allow Fuli to settle the dispute alone, she is shown to be very grateful for the cheetah for her help in settling the herd down.
Female Duck is a big fan of Hadithi just like all the other birds in the Pride Lands. 
Anga gathers Female Duck along with the other birds to help fight the vultures. 
Enemies
Female Duck is assembled by
Ono
,
Hadithi
, and
Anga
to fight Mzingo and his 
vultures
.
Community content is available under
CC-BY-SA
unless otherwise noted.