Eagles are birds that appear in The Lion Guard universe. They live in the Pride Lands. 
Appearance
In the Real World
African hawk-eagles have very slim bodies and trim feathers. The upper part of their body is brown while its underside is white dappled with black. Their underwings are black with white spots. Martial eagles are larger and more muscular in appearance.
In The Lion Guard
Eagles are large birds, with brown and white plumage.
Information
In the Real World
Like most birds of prey, eagles are fast fliers, effective hunters, and symbols of strength and power. Though not as large as some vultures, eagles are most often larger than other raptors. In addition to their other senses, eagles also have extremely keen eyesight, which enables them to spot potential prey from a very long distance. Their diet includes small mammals, small reptiles, and even other birds. The female of all known species of eagles is larger than the male.
Eagles normally build their nests, called eyries, in tall trees or on high cliffs. Many species lay two eggs, but the older, larger chick frequently kills its younger sibling once it has hatched. The dominant chick tends to be a female, as they are bigger than the male. The parents take no action to stop the killing.
In The Lion Guard
Eagles seem to live in the Pride Lands, although not much else is known about them.
History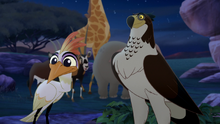 When
Ono
meets his idol, the legendary eagle, Hadithi, he learns that his hero isn't what he expected.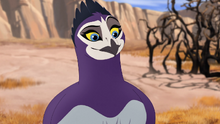 Hadithi and two other eagles appear as cave paintings in the final chamber of the secret caves.
When Mzingo's Parliament starts dropping burnt sticks in the Pridelands, The Lion Guard enlist the help of Hadithi and Anga, a new eagle friend, for assistance.
Anga warns the Lion Guard about the Outlanders attacking. Years later Anga is with the Lion Guard and Jasiri watching Kion roar. Soon King Simba and Rafiki come by. Simba claims that it's time to defeat Scar once and for all. That night all of the Pride Landers are gathered at Pride Rock. Ono explains to Anga that Simba, Nala, and Kiara are trapped. Anga carries Kiara off of Pride Rock. They soon get Hadithi to help Simba and Nala. Soon Scar appears on Pride Rock in fire and the herds panic. They all soon don't wanna fight but then Janja comes. He says that the roar could possibly defeat Scar once and for all. The next morning the team is ready to go fight. Kion and the Lion Guard go inside the volcano while everyone else fights the rest of the army. When the guard comes out Kion claims that Scar is defeated. Ono soon starts to lose eyesight. They go the Lair of the Lion Guard to check Ono out. Kion also gets checked because of his scar. Rafiki along with Makini and the royal family is there to help. Rafiki suggests to go the Tree of Life and get the cure for Kion and Ono. Anga soon becomes the new Keenest of Sight while Ono becomes the Smartest. They soon adventure out of the Pride Lands. 
Kion asks Anga where the next waterfall is. She says that it's not far and she sees the next moja kwa moja stone. Makini says they're on the right path to the Tree of Life. Ono remembers Rafiki's map and says that the Back Lands Waterfall is the first landmark after Pride Rock. Kion tells Anga to lead the way. When they make it to the stone Ono says they need to find a iroko tree. While on their way to the tree, Makucha's Leap comes by to attack the guard. During the fight a dust storm comes and the guard starts to blow away. They soon find shelter but Makucha's Leap follows them. Makucha says for them to leave but there's no where else to go. Kion says that they need to get along and stay in the spot. Makucha says that he wants them and he'll show them the way out. The guard leaves with Makucha's leap and Makini talks to Anga about the Tree of Life. After Kion wonders where they are Makucha's leap then kidnaps Makini. Bunga falls and hangs onto a tree but is saved by Anga. After Makucha lost the guard contiunes on their journey. The guard makes it to the iroko tree and Kion thanks Ono for getting them out of the harmattan.
The Lion Guard climbs up a snowy mountain Makini doesn't remember climbing up the mountain the last time she went to the Tree of Life. Ono says that the map says they need to go around the mountain but going over it will be quicker. Kion soon slides down the mountain making the rest of the guard slide down too. Ono almost falls but is saved by Anga. Beshte stops them before they slide off a cliff. Kion says to try it again but  Fuli says they should go around the mountain. Kion says they're going the way he wants to go since he's the leader. Kion then suggest  finding a short cut through the mountain. Makini spots some Snow Monkeys and says they could help us. However it turns out that they're scared of large birds. Anga tries to talk them but they just panic. Kion then uses the Roar of the Elders. to blast a hole through the mountain. The roar made an avalanche happen and the guard saves Yuki's Troop. The monkeys start to get scared of Anga again but Kion says she's a nice bird. After seeing their home destroyed Kion suggests finding them a new home. They find a hot spot which is surrounded by a bunch of trees. Snow Monkeys are scared of the trees because it attracts big birds. Soon a group of flying squirrrels come by. The guard tries to protect the snow monkeys from the squirrels. After talking to the squirrels the guard sees the monkeys have ran away. Turns out they're hiding in snow and  Bunga is with them. Anga pulls all of them out and Kion finds them a better home. The lion guard hangs out with the snow monkeys in their new home. The snow monkeys starts to like Anga.
The Lion Guard are having fun in the snow. They soon see a bunch of bamboo trees. Kion asks Makini and Ono  what they think and if they should find another way around. Ono says the next moja kwa moja stone is through the trees. Beshte suggests going through the trees. Anga finds some tuliza on a ledge. Bunga tries to climb up and get it but he falls down the cliff. Soon he meets a group of Red Pandas and claim Bunga as the "Chosen one." They say that Bunga is chosen to fight the ghost of the mountain. After Kion introduces himself and says that Bunga is part of the Lion Guard. They soon meet the red panda's leader Domog. He teaches them the legend ghost of the mountain. The guard soon talks in private with Bunga and Beshte thinks they should help the red pandas. Fuli doesn't believe in ghosts but they all agree to help.  After they spot it the guard decides to look for footprints and track it by sent. Anga spots the tracks and Kion says to stay close. They soon find the ghost who happens to be a Snow Leopard named Chuluun who happens to be attacking the red pandas. Bunga asks if Chuluun cares about the Circle of Life. She said she makes her own rules. Bunga attacks her but she vanishes and Anga spots her attacking the red pandas. Bunga saves the red pandas by using his stink. Domog's Pack cheers and says that the legend of the chosen one is over. Makini finds the next moja kwa moja stone. The guard leaves the red pandas and continue on their journey.
The Lion Guard walks through marsh and Fuli questions why they need to walk through it. Kion says they'll be on the other side soon. Anga  says she can see the next moja kwa moja stone beyond the edge of the marsh. Bunga says that this place isn't bad and the snails are great. Fuli says it's nice for Bunga since he's not in the mud. However Bunga jumps into the mud and gets Fuli covered in it. They soon hear a bunch of screaming animals and Ono  isn't sure what it is. Makini gets scared and hops on top of Beshte. Makini suggests getting Ono somewhere safe but Ono doesn't like the idea since they don't know what it is. Turns out it's a bunch of Mongooses who are trying to attack the Lion Guard. The guard the mongooses are throwing mud at the lion guard. Once the mongooses leave Kion asks Ono why they were mad. They notice that Makini and Ono are missing. At the guard Fuli tries to sniff them out. Bunga has a bet with Anga and says he'll spot Makini and Ono before she does. The mongooses come back but Kion says they don't have time for games. Fuli says she's having trouble sniffing them out with Bunga's yelling. Anga finds their tracks but Bunga says it first. They follow their tracks and notice that they're not here. Kion says that Makini and Ono are close and Bunga almost falls down the marsh. He says that there's no snails down there. He finds them under a rock. The mongooses start yelling again but Kion asks why they start attacking them. They explain that the guard have been eating their snails. Makini and Ono soon come up and they knock over a log. The mongooses find the snails and starts eating them. That night Anga spots the next moja kwa moja stone and Bunga spots the blue light. Anga grabs him before he gets lost. Bunga spots more snails and asks Anga to let him go. Anga doesn't agree and flies off.
Kion says that Anga spotted the next moja kwa moja stone. They soon hear a strange sound which happens to be water. Anga shows them an ocean. Kion asks if the next stone is in the ocean but Anga says it's on top of the hill. Bunga umps in but notices there's no water. He soon gets washed away by a lot of water but is saved by a Dolphin. The dolphin's name is Lumba-Lumba and she says she's never met a Beshte before. She says that the ocean is her home.The guard goes to get some more Tuliza. Then, a Civet comes and tells them about the Komodo Dragons. Soon, Ora spots them and says he likes to play with his food. Makini drops the tuliza and the guard spreads out. Ora soon brings his friends to share the meal. Kion soon uses the Roar of the Elders on the dragons. The guard notices that Kion blew everything away even the water. The water soon comes back and the guard starts to run. Anga saves Makini but the rest of the guard get washed away. Kion notices that the roar made an island that they're stuck on. They soon hear Lumba-Lumba who isn't in the water. Makini, Ono and Anga go to get more tuliza. Ono thinks he sees another dragon but Anga says it's just more rocks. Makini, Ono and Anga find the next moja kwa moja stone. Ono remembers  Rafiki's map and says that there's a cliff with a tall tree on top. The rest of the guard fight the dragons and Anga and Ono throw seaweed on them. Bunga soon uses his stink on Ora and Ono drops the seawed on him. Makini gives Kion some tuliza. He soon gets Lumba-Lumba back into the ocean. The Guard even escapes the dragons. The guard continues their journey to the  Tree of Life.
Makini spots the next moja kwa moja stone. Bunga says it's a painting of a river but he doesn't see one. Kion asks Ono where the next landmark is. Ono says he sees a pool of water with rocks all around it. Makini remembers the river she was her with her parents Fikiri and Kitendo. Fuli is happy to cross the river without water. Beshte asks Makini if she was here with Rafiki. She says her mom and dad were taking her to the Tree of Life to meet Rafiki. Makini says that her mother says "to test the water before diving in." Bunga says where's the fun in that and Makini says he sounds like her dad. Makini soon remembers a waterfall which is the opposite direction from the pool. Kion says a little detour wouldn't hurt. Turns out the water has all dried up. Makini spots a painting that looks like a moja kwa moja stone but it isn't. Makini soon remembers a rock where you can put your hand through. The rock is covered up with dirt. Bunga soon kicks the rock and hurts his foot. Makini soon remembers a mountain that looks like a monkey's face. However the guard doesn't see anything and move on. Ono spots the next moja kwa moja stone. Ono soon remembers Rafiki's map and says there's a field with small white flowers. Kion tells Makini no more detours and they need to keep moving. Anga says there's no white flowers but there's a desert. The guard walks across the dessert when Beshte starts to get burned. Anga flies over him to cool him off. A wind storm soon comes and the guard takes cover. Makini hops down Beshte and makes a loud thump noise. Kion's scar starts bugging him and asks Makini if she brought them to the dessert to have fun. Fuli suggests giving him some tuliza. They soon see a little Jerboa who tells them to stop stomping while he's sleeping. Kion gets mad at him and he runs away. He suggests following their footsteps and go back to the next moja kwa moja stone. However another big wind storm comes. Kion sees that there footprints have dissapered. Kion asks Fuli if she can track themselves by scent. Fuli says she can't tell. Kion eats some tuliza but he can't since it's covered in sand. They decide to make shelter and wait for night.  The guard comes up to Makini and says that she's trying her best. The jerboa comes back Kion says sorry for scaring him. He says his name is Tupp and sees that they took his advice. Tupp soon shows them the flowers and says the water is in the plant. They all drink the water and Makini cleans the tuliza. They soon see stars in the sky that looks like flowers. Anga says the next moja kwa moja stone is on top of a cliff. Kion thanks Tupp for his help and the guard goes on their journey.​​​​​​
The Lion Guard are all hot from the sun. Kion as trouble with his scar and he falls down a little hill. Makini tries to help Kion but he says he doesn't need any. Fuli asks if he might need some more tuliza. Makini opens up her gourd but there is no more tuliza. Anga says she'll go find some. Bunga starts to become thirsty and Kion doesn't want him to fool around. Anga finds some but it's very far away. They soon spot a sea which turns out to be salty water. Makini suggests floating in the salty water. Kion tries and soon the rest of guard except for Fuli. Fuli suggests going to get the tuliza and goes on her way. Anga says that they need to get going to the  Tree of Life. But Kion doesn't wanna leave since he feels so relaxed. Soon a bunch of Flamingos come by and says they're on migration. Kion is confused on what's happening and Makini moves him away. Beshte says if they're here Kion can't relax. Ono tries talking to them but they start to have a Flamingo Dance Party. Kion soon gets mad at the flamingos and scares them. Fuli and her new friend Azaad come back to the guard and Fuli hops into the sea. Kion eats the tuliza and says sorry to the flamingos. Azzad says goodbye to Fuli and hopes to see her again. The lion guard soon gets going on their journey.
Beshte makes a new friend Tenuk. Tenuk introduces Beshte and Bunga to his other friends. Beshte says that everyone is very friendly here. Tenuk says they're welcome to stay as long as they want. Anga says they're just passing through. Tenuk says if there's anything they need to let him know. Makini says they need some more tuliza. Tenuk starts to panics, runs away and says to leave him alone. Tenuk's friends questions the Lion Guard on why they scared him. Beshte said they didn't mean to scare him. Makini says all they asked for was tuliza. The two animals panic and run away. Bunga says that everyone's running away whenever Makini says "tuliza." Beshte says that it's not Makini they're scared of. Fuli thinks that they might be scared of tuliza. A Porcupine named Smun is there spying on the guard. Bunga yells "tuliza" at a Civet. The civet is soon saved by Anga when he falls into a river. He soon panics and runs into the  porcupine who says that they heard the civet say "tuliza." Tompok says he was just saying the word. Kion's scar starts to bother him and Makini gets some tuliza. She gives it to Kion and Kion starts to feel better. Mama Binturong steals Makini's staff which had the tuliza in it. Fuli asks Makini if she forgot and anything and she remembers her staff. She goes to the log where she placed it down but it wasn't there. e guard starts to track Makini's staff but has no luck. Fuli says they need to find her staff in order to find the Tree of Life. They soon spot a Gibbon and asks him if he's seen the staff. He says to ask the Mongoose. The mongoose says to ask the civet. The civet says to ask the Mouse Deer. The mouse deer says to go back and asks the gibbons. The gibbons explains to the guard where to find Mama Binturong and Makini's staff. After fighting Mama Binturong, Bunga comes back to the guard with Makini's staff. They soon head off on their journey to the Tree of Life.       |}
Notable Eagles in The Lion Guard
Community content is available under
CC-BY-SA
unless otherwise noted.