Information
"
You ain't from around these parts, are ya? 'Cause if you were, you'd know, on that spit o' land, there be dragons!
"

–Old Civet to the Lion Guard., Dragon Island
Dragon Island is a location. It is marked by a Moja Kwa Moja Stone as one of the landmarks on the path to the Tree of Life.
Appearance
Dragon Island is a small island that has a land bridge so animals can travel on or off. The island is quite small, but has abundant amounts of seaweed and palm trees. A rocky slope containing a Moja Kwa Moja stone sits in the middle of the island. Dragon Island does not have many occupants, with the exception of komodo dragons.
History
Dragon Island can be seen on Rafiki's map in the Lair of the Lion Guard.
The Lion Guard comes to Dragon Island and sees the ocean for the very first time. They soon meet
Lumba-Lumba
who is a
Dolphin
. After meeting Lumba-Lumba
Old Civet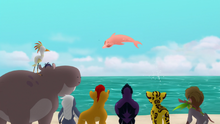 warns the Lion Guard about the
Komodo Dragons
. 
The group soon meets Ora's Bank who tries to eat them. When Kion has enough he uses his Roar of the Elders to blast them away. However he even blasts away all of the water. Their new friend Lumba-Lumba ends up on the shore. They figure out how to get Lumba-Lumba back into the ocean. Meanwhile Ono, Anga and Makini look for some Tuliza for Kion and find the next Moja Kwa Moja Stone.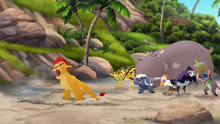 When Ora's Bank comes back, Kion uses the Roar of the Elders again. He and the Lion Guard soon esscape while Lumba-Lumba goes back into the ocean. They soon run into the Old Civet who tells them that he was right.
Bunga
points out that the Lion Guard got rid of the dragons.
Ora
soon joins
Makucha's Army
and follows the Lion Guard to the
Tree of Life
.
List of Species
Residents
Former Residents
Locations
Visitors
Community content is available under
CC-BY-SA
unless otherwise noted.