Information
"
Welcome to Dhahabu Grove. The happiest place in the Back Lands.
"
Dhahabu Grove is a location in the Back Lands. It is located near Dhahabu's Watering Hole.
Appearance 
Dhahabu Grove is an area of the Black Lands, dotted with many acacia trees and plenty of grass for zebras to eat.
History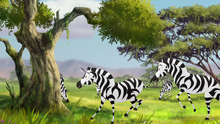 When a water shortage strikes the Pride Lands,
Simba
sends the
Lion Guard
to ask
Dhahabu
to share her
watering hole
. The Lion Guard venture to there, where they are introduced to the
Fabulous Dhahabu
. Excited to meet
Pride Landers
, she leads them to Dhahabu Grove. After a little conversation on leaders, Kion asks her the all important question. She is hesitant at first, but when
Kion
offers to do something for her in return, she asks him to find a
Tamboa Plant
for her
herd
. To her surprise, he accepts.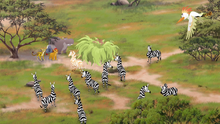 Later, Dhahabu teaches her herd some moves with their hooves, when she bumps into the Lion Guard who have returned with the plant. Suddenly, she calls the deal off, and even denies her own herd access to the watering hole. Suspicious, Kion orders Ono to check the surrounding area, where he discovers that the watering hole has dried up. Upset at their leader for lying to them, Dhahabu's herd abandon Dhahabu. She reveals to Kion that she was aware that it dried up, but was hoping that it would refill itself soon. Kion offers to help, and Dhahabu announces that she will gladly share with the Pride Landers if successful. After a fight with Makucha's Leap, they are able to restore water to the watering hole, and the Pride Landers are granted access as promised.
Inhabitants
Visitors
Community content is available under
CC-BY-SA
unless otherwise noted.