Spider-Man: No Way Home Trailer Dropped - The Loop
Play Sound
Information
"
Welcome to our watering hole, everyone. Plenty of water to go around.
"
Dhahabu's Watering Hole is a location in the Back Lands.
Appearance
Surrounded by vegetation even in the Dry Season, Dhahabu's Watering Hole is described as being the largest watering hole in the Back Lands. A large waterfall provides plentiful amounts of water to two individual watering holes. They are surrounded by a few rocks of varying sizes, with several trees not too far away providing shelter.
History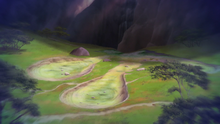 During a water shortage,
Kion
and the
Lion Guard
ask
Dhahabu
to share her watering hole with the
Pride Landers
. She agrees to do so, on the condition that they bring her back a
Tamboa Plant
. But when they do so, she calls the deal off, and even denies her own
herd
access. Suspicious, Kion orders
Ono
to check the surrounding area, where he discovers that the watering hole has dried up. Upset at their leader for lying to them, Dhahabu's herd abandon Dhahabu. She reveals to Kion that she was aware that it dried up, but was hoping that it would refill itself soon. Kion offers to help, and Dhahabu announces that she will gladly share with the Pride Landers if successful.
When they arrive, Kion asks if she has any idea why it may have dried up. She explains that there used to be a waterfall, and Ono is sent to investigate. He reports back that a rock slide has blocked the water above. The Lion Guard start to move, showing no concern over Dhahabu's warning of the area being leopard territory. She insists that she joins them, to be a good leader.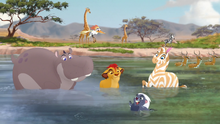 After a fight with
Makucha's Leap
they are successful in restoring the water. Kion leads some herds through the Back Lands, where they are introduced to Dhahabu. She approaches them and states that they have to do something before they can enter - "Frolic and romp". The animals happily agree, and enter the water. Dhahabu invites the Lion Guard, and all but Fuli enter to join her. Bunga tells her to lighten up, and Fuli does so by following the other zebras, monotonously chanting "frolic and romp".
Simba welcomes Queen Dhahabu and her herd into the Pride Lands as he thanks them for letting the Pride Landers share her watering hole. Dhahahbu claims that the Pride Landers can share her watering hole forever.
Visitors