Wiki Targeted (Entertainment)
Play Sound
Information
"
Straight across the desert toward the cliffs!
"
The desert is a location in the Lion Guard universe. It is marked by a moja kwa moja stone as one of the landmarks on the path to the Tree of Life, with three other landmarks within.
Appearance
The desert spans a large distance. There is little to no plant life, though an occasional plant can be found. Sand dunes are commonly found in the desert, and some of them, known as booming sand dunes, can make a noise if jumped upon. Due to harsh conditions and high wind, sandstorms can happen. The desert does not have many known residents, though jerboas such as Tupp do happen to live there.
History
The desert can be seen on Rafiki's map in the Lair of the Lion Guard.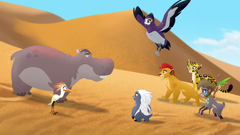 The
Lion Guard (group)
and
Makini
walk through the desert to get to the Cliffs.  The Desert can even be seen in a flashback when Makini was little. She was with her mom and dad
Kitendo
and
Fikiri
.
The Lion Guard then meets Tupp who helps them find water. He also helps them find the Four Stars.
The Lion Guard and Makini are still walking in the desert. While looking for some Tuliza Fuli meets Azaad who is a male cheetah. After Fuli saves his life while haivng a race, he helps Fuli get the Tuliza that she needs.
The Dessert can be seen when Ono looks at a map in his vision.
The Desert can be seen during the song "As You Move On."
List of Species
Residents
Former Residents
Locations
Visitors