Information
"
But Rafiki sent you here to be healed. Doubtless because Askari first discovered the Roar at Cikha Escarpment, not far from here.
"
Cikha Escarpment is an escarpment located near the Tree of Life.
History
Askari discovered and practiced the Roar in Cikha Escarpment.
Nirmala tells Kion that Askari discovered the Roar of the Elders at Cikha Escarpment.
Kion talks to Mufasa about giving up the Roar of the Elders, and Mufasa tells him that the Roar couldn't be returned to him, as the Roar came from Cikha Escarpment, and Kion must go there to return the Roar.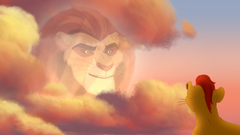 Kion goes to Cikha Escarpment, and Askari's spirit appears in the sky. Askari introduces himself, and states his knowledge of Kion's position as leader of the new Lion Guard.
Kion tells him that he knows the Roar didn't make him a leader, and as he couldn't control the Roar, he was ready to give it back. Askari states that Kion was ready to learn everything that the Roar can do.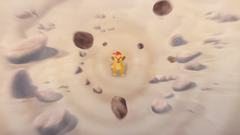 Kion returns to Cikha Escarpment for Askari to teach him lots more ways to use his roar. Later when
Bunga
wonders why Kion won't use the Roar
Rani
and Bunga goes to find Kion. Soon
Anga
comes and explains about 
Makucha's Army
.
Visitors
Community content is available under
CC-BY-SA
unless otherwise noted.