Information
"
Janja's not exactly welcome in the Pride Lands. He thought you might meet on neutral ground. Say, sunset tonight at Broken Rock?
"
Broken Rock is a location that is considered neutral territory between the Outlands and the Pride Lands, despite technically being part of the Outlands.
Appearance
Broken Rock is located near the edge of The Outlands. As the name suggests, it is a boulder cracked in two.
History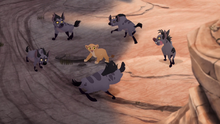 Broken Rock was the meeting place of Kiara and Janja to discuss Janja's peace proposal. Once Kiara arrives at the meeting place, she is ambushed by Janja, who is hiding behind Broken Rock. Fortunately, Kion soon arrives with the rest of the Lion Guard in tow. With the ratio equal, Janja and his clan making a hasty retreat back home.
When Ushari overhears that Kion can speak to Mufasa he asks Janja if there is a way from them to speak to the worst lion that ever lived: Scar. 
Scar's flashback during When I Led the Guard shows the rock cracking right after he uses the Roar of the Elders on his guard. Later Kion lets his roar slip out at Bunga.
When Lion Guard, Jasiri's Clan, Azaad and Mzingo's Parliament passed broken rock to stop Zira and her pride from heading to the Pride Lands.
Visitors
Community content is available under
CC-BY-SA
unless otherwise noted.