Information
"
Ma Tembo, you and your herd are welcome in Acacia Grove!
"
Acacia Grove is a location in the Pride Lands. It is the home of Twiga and her herd.
Appearance
Acacia Grove is a relatively large area of land with a few large rocks on the ground. As the name suggests, acacia trees are abundant in this area.
History
After a wildfire caused by
Scar
destroys
their home
habitat,
Ma Tembo's herd
needs a new place to live. So
Kion
leads them to Acacia Grove - where 
Twiga's herd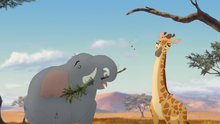 lives. Since both animals are large and eat leaves, he believes it to be a perfect match. Although hesitant, 
Twiga
 accepts the proposal. But before
the Lion Guard
can leave, she approaches them having witnessed
Zito
take down an entire tree branch to eat its acacia leaves she is worried that there won't be enough food to go around, Kion assures an angry Zito that he 
will
 find them a new home.
The Lion Guard notices fire falling from the sky. Bunga, Beshte, Ono take out the fire while Kion and Fuli save the giraffes. After the fire is out Kion tells Twiga's herd it's alright to go back. Kion knows that Scar is behind all theses attacks. The guard soon notices more fire falling at Embamba Canyon.
​​​​​​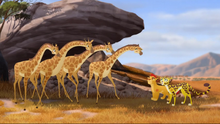 Inhabitants
Visitors
Community content is available under
CC-BY-SA
unless otherwise noted.